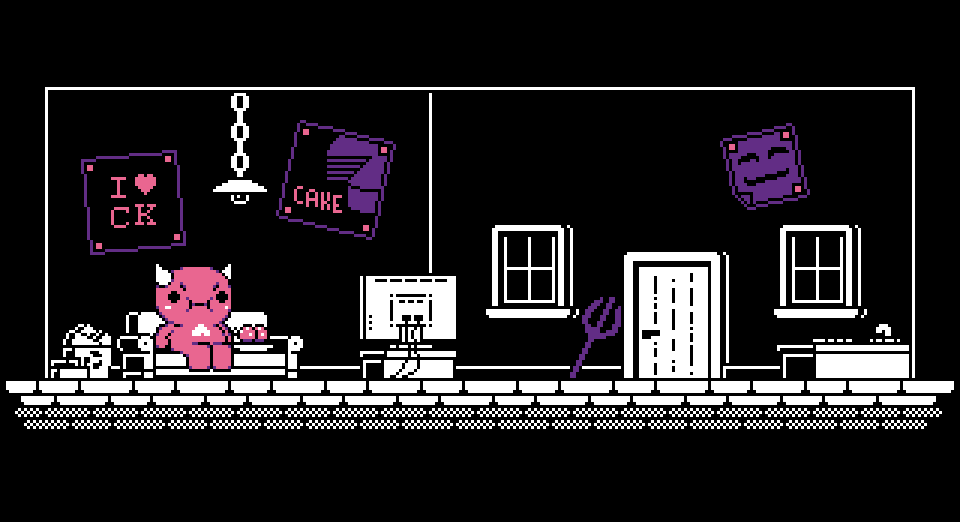 Satan Loves Cake
A downloadable game for Windows
SATAN LOVES CAKE.
Like, a lot. But one day, while watching the telly, he realises that he has run out of cake. Join SATAN in a delicious quest through (a bit of) Hell, while eating as much CAKE as possible!

SATAN wields a trident that shoots electric beams, that are able to tramsform his enemies into cake. Meet a host of enemies and bosses - and eat them all!
Made in a month and a half for A Game By Its Cover 2019 - a jam about making games based on fake game carts created for the Famicase art exhibit.
Inspired by CAKE QUEST by Pixelhans, for Famicase 2017.
Roughly 30-60 minutes playtime, or thereabouts.
GAME BY: Anders Pedersen - @bakufreak - baku.moe
MUSIC BY: John Wesley - @kbjwes77 - kbjwes77.github.io
| | |
| --- | --- |
| Updated | 4 days ago |
| Published | 8 days ago |
| Status | Released |
| Platforms | Windows |
| Rating | |
| Author | Baku |
| Genre | Platformer, Action |
| Made with | GameMaker: Studio, Aseprite |
| Tags | 2D, agbic, GameMaker, gamepad, Metroidvania, Pixel Art, Puzzle-Platformer |
| Average session | About an hour |
| Languages | English |
| Inputs | Keyboard, Xbox controller, Gamepad (any), Playstation controller |
| Accessibility | Color-blind friendly, Subtitles, High-contrast, One button |
Download
Click download now to get access to the following files:
Comments
Log in with itch.io to leave a comment.
got stuck at the second boss.
electricity from where I came (dumb block aint on the button anymore)
and electricity at the end (where you stand on the button to make the block fall down further).

no escape in any direction for me :-(
Yeah, that was a known issue unfortunately. I just pushed an update that (fingers crossed) fixes that.
Love the game! the music and aesthetics are lovely and the game mechanics are super solid. Not sure if i'm just bad or not, but i got stuck after the frog boss fight. After proceeding to the room to the right of the frog boss, I realized I was trapped between two electric gates with no apparent way to get past them. (the gate before the frog boss reset after I left the room). Please let me know if I just missed something. Even then, extremely fun and cute! (EDIT: saw the documentation in known issues.)
Same, literally just about to comment about this softlock
Yeah, that softlock is a real pain. I've finally got time to work on this again today, fixing that is #1 priority right now.
Edit: Should be fixed now.
I wish save worked, because it's too long for me to do in one sitting. Is there much after eating the taiyaki?
Yeah, sorry I couldn't get save/load done in time for release.. I'll see if I can get it working and update it soon.

After eating Taiyaki, you're about 50 % of the way through.
This was great!! The bouncy animations felt so great in gameplay, I'll never be able to get enough of the lo-fi dithered art style this game has got, reminds me a lot of Downwell
if you like that, I have two things for you to check out. One is a game " Hell Is Other Demons " and another is pretty much every game a developer on steam( Caiysware) makes. Straimium Immortaly is one game, Skelly Selest is another. Straimium Immortaly is a roguelite game sorta in the vein of BOI, and Skelly is an arena score chaser/roguelite/card game/multiple other modes bc the dev is insanely adding new stuff all the time. Both have this awesome dither effect, check em out ^^
now this is a solid game. Tons of polish and I love the music and the adorable charm of the game. I didn't beat it yet because I gotta get some sleep b/c I was up too late playing this game haha.

Seriously this could be a full blown game. Reminds me Gato Roboto